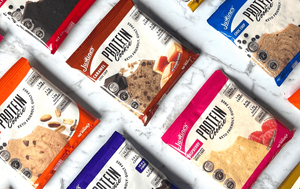 The world has a universal love for cookies. But you would be hard pressed to find anyone more passionate about cookies and brownies than Justine!
Dedicated to creating compelling, guilt-free snacking solutions for anyone and everyone, Justine, who is a caring and nurturing person by nature, has developed recipes that are simply irresistible whilst helping you maintain a healthier lifestyle.

Oh, and did we mention that they are packed full of goodness too? That means you can enjoy a tasty snack knowing it is protein-rich, packed full of fibre, and is ultra-low in carbs.
Our Story
Way back in 2005, Justine's journey towards guilt-free indulgence for everyday New Zealanders began.

CEO and founder, Justine Muollo, took her cookie passion and motivation to produce innovative products into the kitchen. What came out of that kitchen is now enjoyed by many fans and stocked worldwide. They are all produced with love and care from her Wellington factory.

To ensure you enjoy every bite, each product is rigorously tested for taste, quality, consumption, nutrition, and safety before it can even leave the gates. In fact, each of our protein-packed products are created in a purpose-built facility and satisfy any dietary or food requirement.

All our products have no added sugar, are ultra low carb & high in protein. So, regardless of whether you are Keto, Vegan, on a weight loss or health journey, wanting a sweet treat minus the guilt, or Gluten, Wheat or Dairy-free, we have you covered!
Why Justine's Cookies?
Everything is completely NZ made and produced here in our nation's capital.
We could tell you about the awards we have won, as there have been a few (Deloitte fast 50 winner award, gold awards and a finalist in the Ernst & Young Entrepreneur of the Year). But what matters more than awards is what is at the heart of our business.
Quite simply, we want to make delicious snacks that everyone can enjoy without feeling guilty whilst maintaining a healthy lifestyle.
We also have strong values, sourcing ethical and local ingredients to ensure the highest of quality of our products. Everything is completely NZ made and produced here in our nation's capital.
Join our awesome family.
When it comes to our products, passion is an understatement. We want you to love and enjoy our products as much as we do. Our products are your smart snacking solution. We care and want to assist you in maintaining a healthy lifestyle and diet but most importantly still enjoying the treats you love.
So, join Justine's family and tell us the kind of treats you love and want to see us include in our range. Who knows, if we do not already make them, we might just jump into the kitchen to create something extra especially for you.
Want to stock our products?
Wholesale Enquiries
Become a brand ambassador
Find out more
Got Questions?
Get in touch